Storage Units of Different Sizes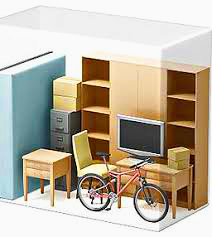 Choose from storage units ranging between 4×4 and 12×24 for your needs. Not sure what size storage unit you need. Please call, text or email us for assistance at +1 (319) 360-7420 roalson@roalson.net
Short & Long Term Storage
 
Whether you need short-term storage for a couple of months or long-term storage, Northland Self Storage has the perfect lease for you! All of our contracts can be on a month-to-month basis, allowing you the freedom to move out when you are ready. No hassle, no additional fees.
Pick the Storage Unit That Best Suits Your Needs
Need a safe place to store your stuff? Northland Self Storage can help. Take a look at the various storage option we have for you. Whether you need to store household items or office items, you can pick the perfect unit for your needs from our wide range of self-storage unit sizes. From ground-level rooms to 2-story units, you're sure to find the perfect unit to store your items.
Please note:
• All prices include appropriate taxes
• Deposit required
• Minimum 30-day rental
Need more information or assistance in selecting the unit size that's right for you? We are happy to assist you! Please call, text or email us at +1 (319) 360-7420  roalson@roalson.net

Security & Protection
• Location is easily accessible
• 24/7 hour access
• Video surveillance
We also have locks available for purchase.
What's more? You can get 1-month storage FREE for annual payments.
You'll be glad to know that we also speak French and Spanish.
 

Ground-Level Rooms

Price

 
4×4
$26
4×8
$47
4×10
$49
8×21
$86
 
 

Garage

 
10×24
$99
12×24
$109
 
 

RV Units

 
17×24
$59
 
 

Mid-Level Rooms

 
5×8
$47
 
 

Upper Rooms

 
4×7
$30
6×19
$59